Why capacitive knobs?
Until now, the mainstream of devices integrated for vehicle air conditioning and volume controls are mechanical switches and rotary knobs that provide mechanical feel in order to provide the certainty of operation.
In recent years, differentiation by interior design is becoming more popular, and an increasing number of vehicles are adopting flat capacitive touch switches for their interiors for seamless and high design.
As various operation devices are being studied to achieve both "reliable operability" and "high design", the need to combine an electrostatic touch switch and a rotary knob has emerged.
Furthermore, in automotive displays such as car navigation systems, there are need to place mechanical knobs directly on the display for space restrictions due to the increase in screen / display sizes.
Expecting adoption of a capacitive knob that can operate on a capacitive touch display will provide both operability and design.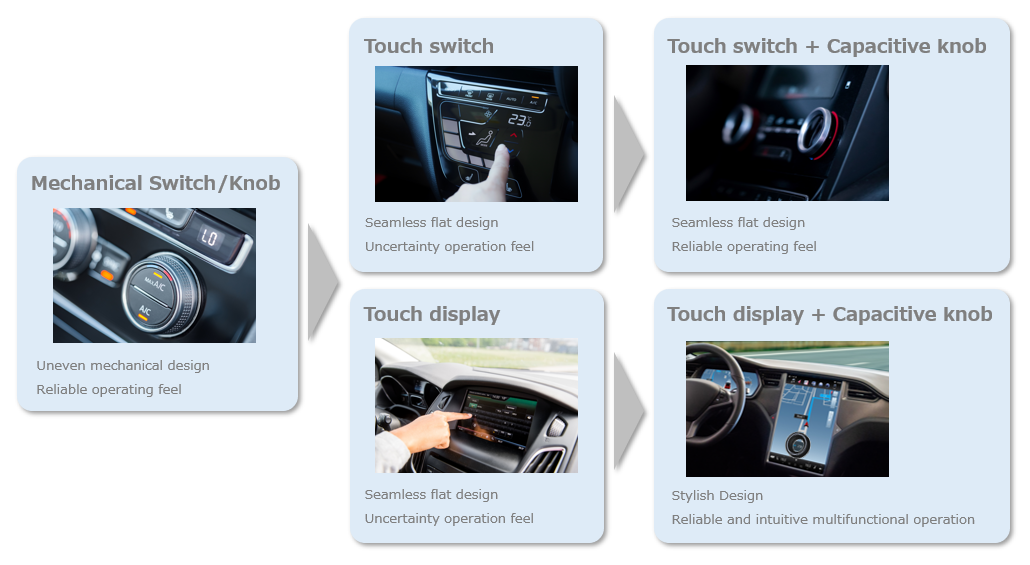 Panasonic's proprietary capacitive knob "Magic Knob™"
For capacitive knobs, "Ιrotating method" is commonly used in which the electrodes on the bottom (so-called pseudo fingers) rotate as the knob rotates.
This method can be used on a touch sensor with a standard pattern, but may cause problems such as knob becomes large in order to secure the adhesive area to rotate electrode on the bottom.
In addition, hands are normally used as the GND which became constraints not be able to operate with gloves on.
Our capacitive knob named "Magic Knob™" solves the problem of adhesive area by combining a dedicated pattern on the touch sensor and electrodes fixed on the bottom, enabling the knob to have a smaller diameter (the smallest in the industry *according to our research).
In addition, this method does not use the operator's hand as GND, which enable operations with gloves on become possible.
Magic Knob™ provides a new interface for air conditioning and acoustic control panels, which requires small diameter and simple operation.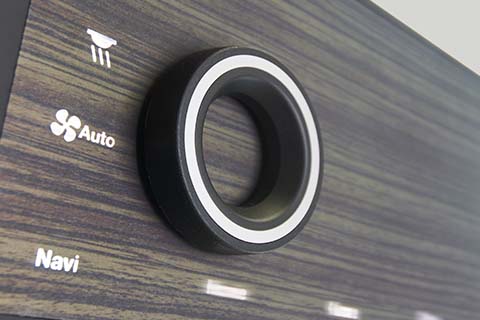 Knob on woody dashboard (image)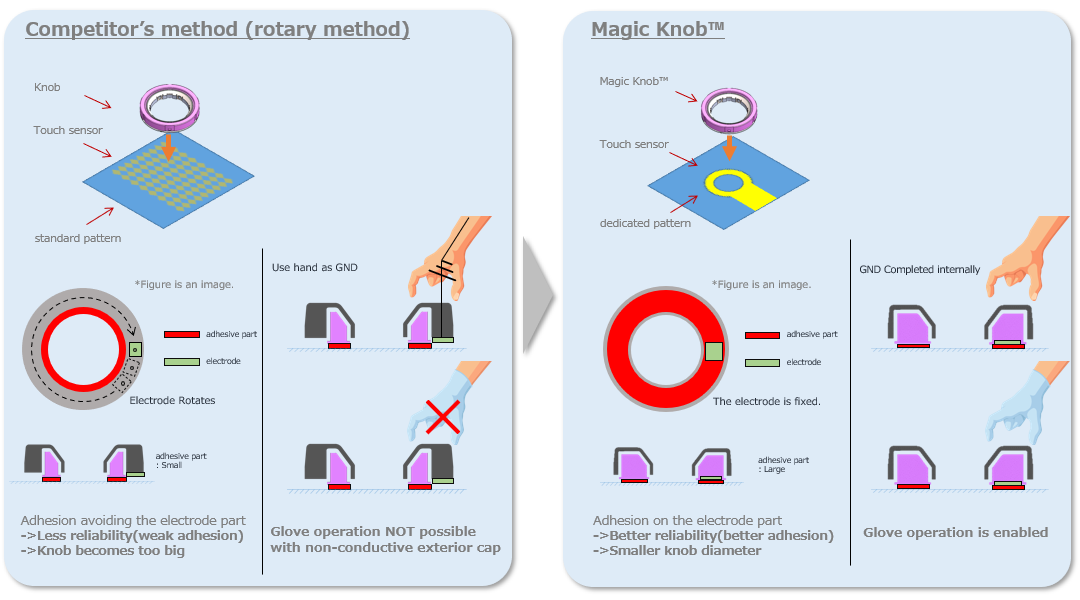 MPMK, a unique drive system developed jointly with Microchip
Since our conventional Magic Knob™ requires a dedicated sensor pattern, there are some design restrictions such as inactive areas appearing depending on the placement position for display applications.
"Microchip Panasonic Magic Knob™ (MPMK)", a capacitive knob that enables standard pattern drive and direct output of rotation data by incorporating a unique drive system jointly developed with Microchip Technology Inc.
Magic Knob™ have advantages (high reliability, smaller knob diameter, and glove support), while eliminating touch areas and design restrictions, enabling Magic Knob to be placed anywhere on the display.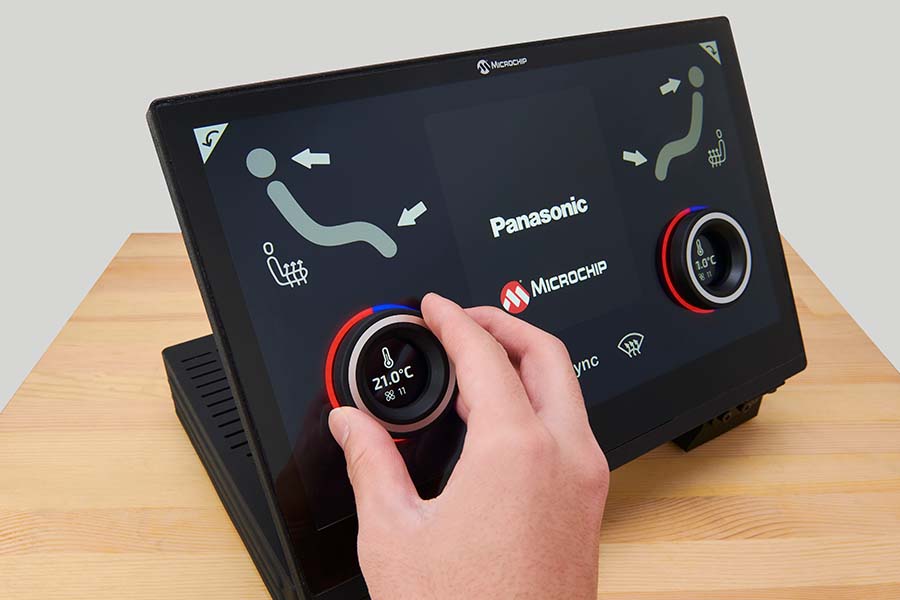 Unique ring push mechanism
Our unique "Ring Push Mechanism" provides a natural and new operability that allows you to get the same mechanical feeling no matter where you press.
Also our long time customer support history and know–how providing rotary encoder / tactile switch enable us to meet any customers' rotation and push feel.

Method
Rotation method
of other company
Magic Knob™
(Conventional method)
Magic Knob™
(MPMK)
Mainly for non-display applications

Mainly for display applications

Configuration

Touch operation
multi-touch
single touch
multi-touch
IC
General Touch IC
General Touch IC
Microchip "maXTouch®" *
MK Series
ATMXT2113TD-MK
ATMXT2912TD-MK
Adhesion
bad
good
good
Waterproof and
dustproof
bad
good
good
Exterior knob
Need conductive material
Plastic OK
Plastic OK
Glove operation
No
Yes
Yes
Ring push mechanism
None
Yes
Yes
* maXTouch® is a registered trademark of Microchip Technology Inc.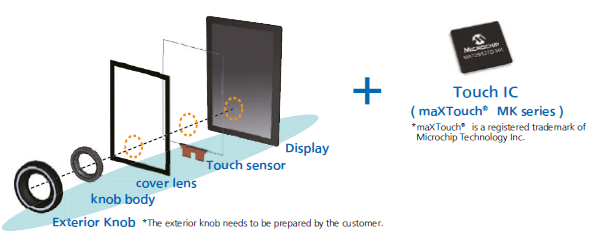 Panasonic's Magic Knob™ provides new HMI value and contributes to the future of vehicle interior space.
Contact us about Magic Knob™