Focusing on Next Mobility applications, we will introduce the role of relays and product features.
The manufacturing industry is making various efforts to achieve "Carbon neutral". In the world of mobility, electric motor cars, such as electric vehicles (EVs) and plug-in hybrids (PHV), the trend in manufacturing has been an increasingly rapid change from conventional internal-combustion engines (ICE) vehicles to electrification. That realization of "EV systems" which enables this change will continue to hold significance.
Did you know that the DC high-capacity relay is useful for realizing such electrification and "EV systems"? A typical example of this is the battery circuit of an electric vehicle (EV). High-capacity relays are used to cutoff the circuit in order to prevent abnormal currents and inrush current during charging.
This article explains the role and product information regarding DC high-capacity relays in
"EV systems" and various applications where electrification is advancing.
■Applications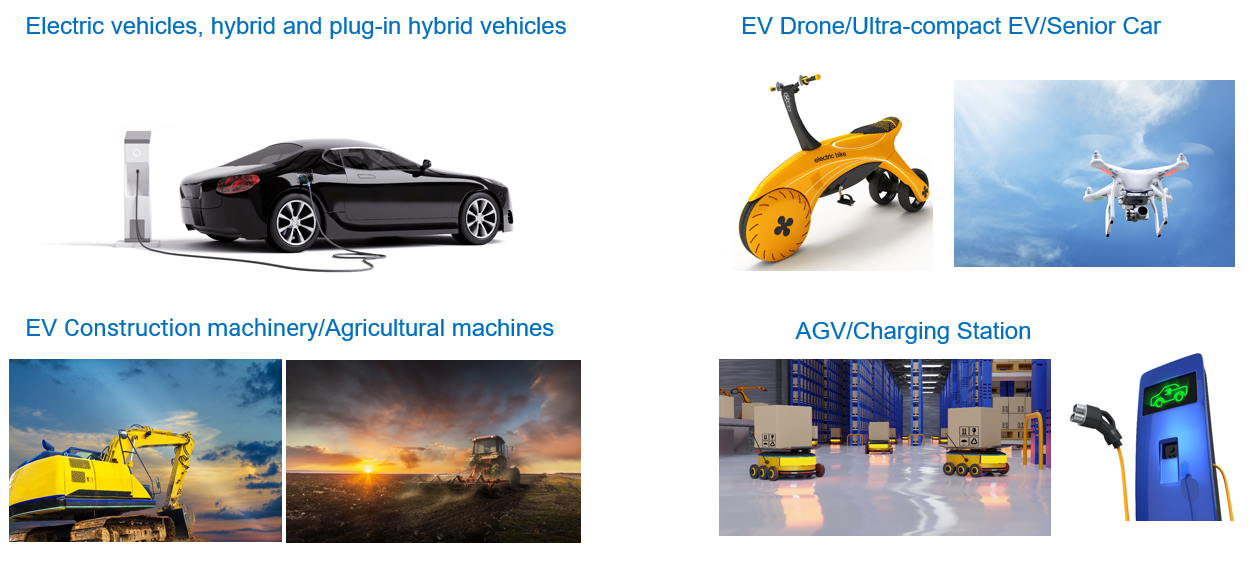 ■What is electrification "EV systems"?
Electrification is one strategy as an effective means of achieving "Carbon neutral" and the key for electrification is in the "EV system". In a familiar example, it is easy to imagine the electrification of automobiles represented by Electric Vehicles, Hybrid Vehicles, and Plug-in Hybrid Vehicles.
"EV systems" which consists of a 'storage battery', supports the electrification of these vehicles and various equipment. In this system, the storage battery uses many high-capacity batteries and plays a key role in the repetition of charging, storing electricity, and supplying electricity to equipment for use.
■What is required of a relay for "EV systems"
The voltage used in the "EV systems" is DC (direct current). The relays used in "EV systems" are used to safely cut off the battery in the event of a system failure and also used to prevent inrush current when charging capacitors. In such applications, both DC high capacity cut off and high reliability are necessary.
■The role of relays in "EV systems"
-Safety cut-off
One of the relay applications is to safely cut off the circuit in an emergency. When an abnormality occurs, it is necessary to cut off the power supply (inverter and storage battery) completely. DC high-capacity relays could help protect the power supply (see Figure 1).
- Inrush current prevention during charging capacitors (pre-charge circuit)
When the power storage system is started, the inrush prevention relay is switched on before the main relay which is then switched on only after the capacitor is charged. The DC high-capacity relay is suitable for such applications where handling high capacities and currents is needed. It is also effective in protecting the inrush current generated during charging and is useful for safety countermeasures.
(See Figure 1.).
Figure 1: Example of EV Battery Circuit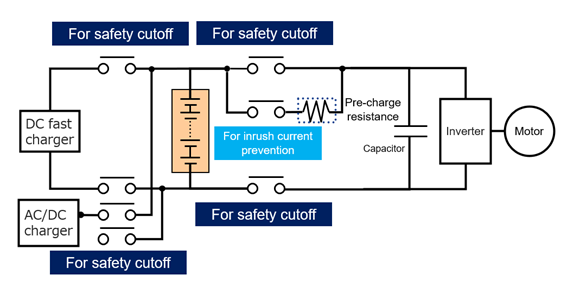 Figure 1-2
"EV systems" required to achieve "Carbon neutral". We have introduced the benefits of the high-capacity relay as a safety cut off on the DC side and as a safety countermeasure to prevent inrush current. Panasonic recommends the following products.
[Recommended DC High Capacity Relay] 
EV Relay

normal types

   (AEV)

EV Relay

compact high short circuit capacity

type

(AEVG)

EV Relay

quiet types

(AEVS)

EV Relay

high short circuit capacity

type

(AEVH)

EV-A Relay

(AEVA)
*Click the product photo to go to the product details.
Panasonic will contribute to the realization of "Carbon neutral" through the use of high-voltage DC relays required for "EV systems".
* From a safety perspective, we, Panasonic will confirm the specifications and evaluation
with the equipment manufacturer before using the relay.
Please understand that safety considerations prevent us from receiving potentially unnecessary inquiries from users.