A PhotoMOS is a semiconductor relay with an LED as an input and MOSFET as an output.
It is used in various fields to improve device reliability and reduce size.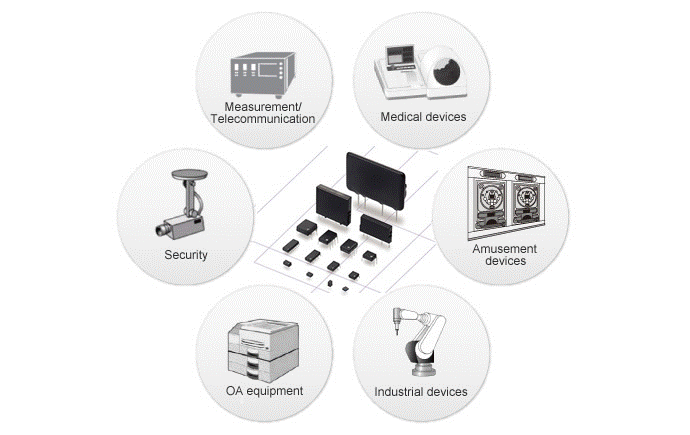 [Glossary]
Epoxy ----- Epoxy resin
LED ----- Light Emitting Diode
MOSFET ----- Acronym for Metal-Oxide-Semiconductor Field Effect Transistor
A transistor that has structure efficiently combining Metal (Electrical conductor), Oxide film (Insulator), and Semiconductor (substance that has intermediate quality)
Photoelectric element ----- Solar battery and control circuit
<Optical Isolation>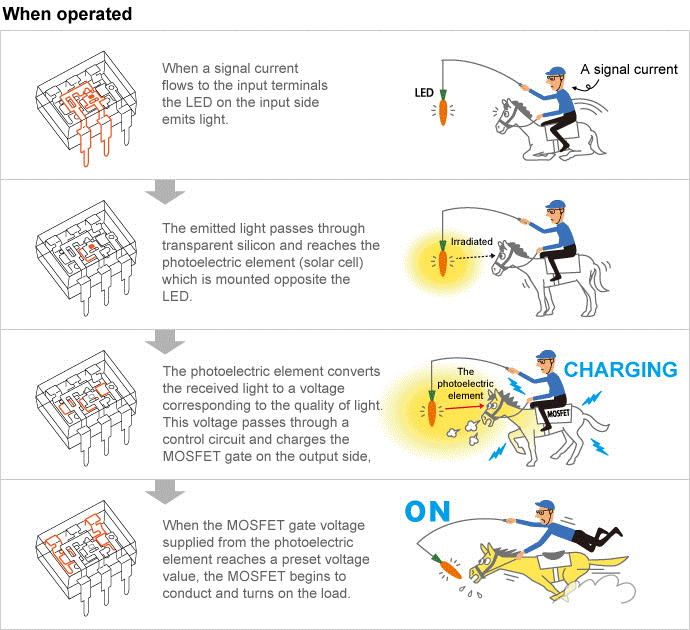 Obviously the PhotoMOS differ from the conventional electro-mechanical relays.
PhotoMOS are classified to semiconductor relays that have no moving contact, therefore they are superior to conventional electro-mechanical relays in life-expectance and reliability of contacts, operation speed, and their sizes.
But they also distinguish themselves from other switching solutions that utilize photo-couplers, photo-transistors etc.. PhotoMOS have MOSFET for output, therefore they are the most suitable devices for small analog signal switching.
Panasonic offers PhotoMOS for various purposes with a wide range of products.
The PhotoMOS is provided in eight types according to features and recommended purposes.
Our PhotoMOS are offered in various packages from VSSOP, the smallest-footprint in our lineup to SIL, which can control up to 10A. We offer SOP16pin with 4a output and the built-in input resistor type. Panasonic has its own package options featuring their contribution to space-saving design and reducing man-hours.
PhotoMOS Package Variations